Directions to Downtown Berkeley Springs, WV.
From the North and East
Follow I-70 west to Hancock MD. Exit 1B onto 522 south. After crossing the Potomac River travel about 5 miles to Berkeley Springs.
From the South
Take 522 north from Winchester VA. Approx. 35 miles to Berkeley Springs .
From Martinsburg, WV,
Take Rt. 9 West about 25 miles into Berkeley Springs. Turn right at light.
Ice House Co-op Gallery — Tour HQ
Independence & Mercer Sts.
GPS Coordinates: 39.628,-78.2258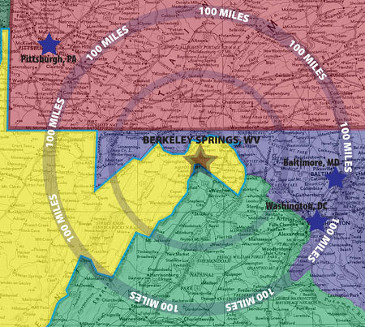 ❋ If you are here visiting on non-tour dates, please make an appointment before going to studios. Most of our artists are not generally open to the public. ❋
Address based GPS directions are not always reliable in Morgan County and so we have based our map on actual GPS Coordinates. When in doubt, use the written directions in the tour guide/map to find the studios you are looking for.