Please be excuse errors while this new website is being worked on.
Come see us Oct. 23-24, 2021, in Berkeley Springs, WV.
We will be following CDC and WV state guidelines
for mask wearing and social distancing.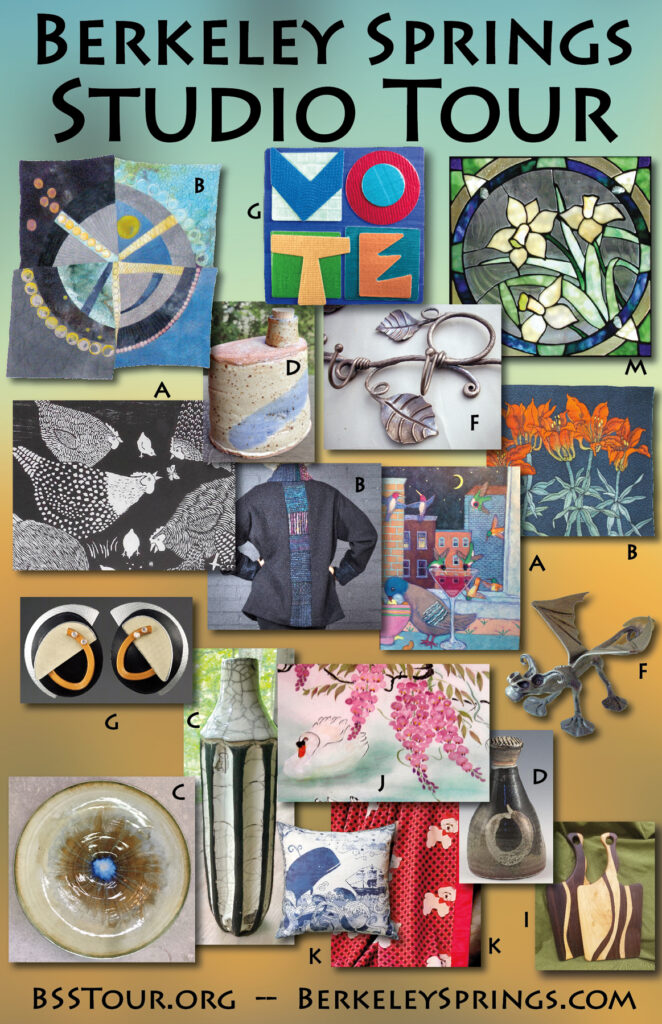 Welcome to the new Berkeley Springs Studio Tour Website
The Studio Tour is a free self-guided driving tour open to the public, held once a year, usually the third weekend of October.  
 
BSST is comprised of nationally and regionally known artists in their studios. It includes contemporary and traditional art and fine crafts in many different media.  Artists demonstrate and describe the processes they use to create their unique work.  
 
Please use the STUDIOS tab to find more information about our artists.

❋ If you are here visiting on non-tour dates, please make an appointment before going to studios. Most of our artists are not generally open to the public. ❋

The interactive map on the DIRECTIONS tab will be updated when we have our next Studio Tour.

Berkeley Springs Studio Tour, Inc. is a not-for-profit organization registered with the state of West Virginia, formed to promote the arts in and around Berkeley Springs. We are not directly associated with any other organization but work with local arts groups to promote local artists and increase tourism in Berkeley Springs.