Thanks to all who came to visit.
The next Studio Tour is Oct. 19-20, 2024.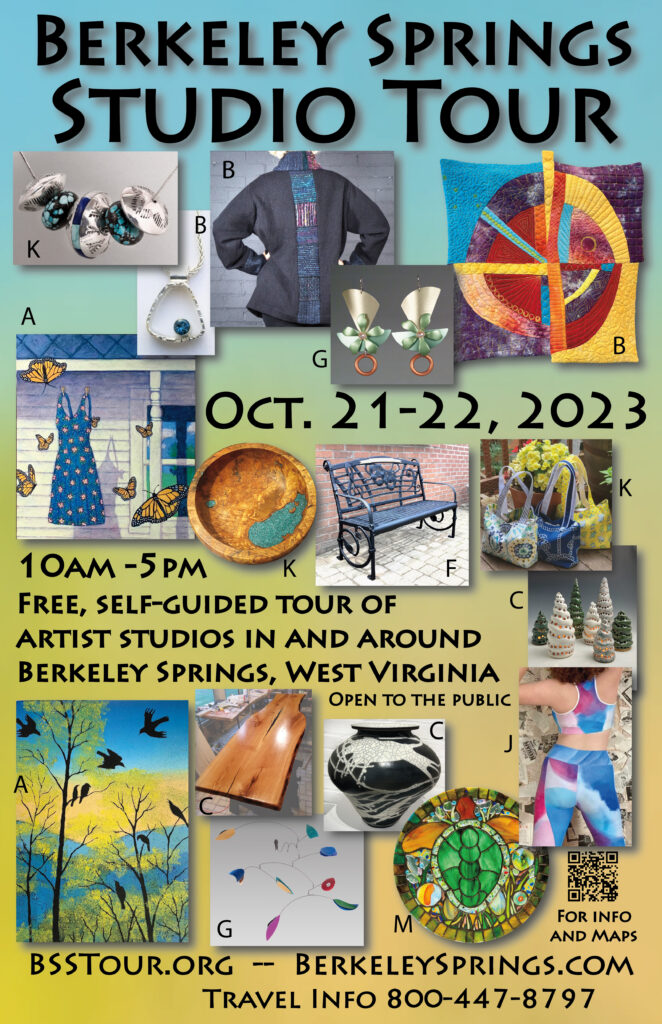 Welcome to Berkeley Springs Studio Tour
The Berkeley Springs Studio Tour is a free, self-guided driving tour open to the public. The next tour will be held in October 2024, during the height of fall foliage.  
 
The Berkeley Springs Studio Tour is comprised of nationally and regionally known artists in their studios. It includes contemporary and traditional art and fine crafts in many different media.  Artists will demonstrate and describe their processes used to create their unique work.  

COVID Guidelines:
– Studios may require visitors to wear a mask.
– Numbers may be limited in a studio so there could be a wait outside.
– Please respect social distancing.
– Please do not go on the tour if you feel unwell.

Tour Information Center:
THE ICE HOUSE GALLERY is the Tour Information Center. Maps will be available at the Ice House Gallery or online.

Studio Participants:
Please use the STUDIOS tab to find more information about our artists and their contact information.

Directions-Maps:
The interactive map on the DIRECTIONS tab will be updated before the Studio Tour. Maps will be available at the Ice House, online and at many of the fine shops in Berkeley Springs.

Berkeley Springs Studio Tour, Inc. is a not-for-profit organization registered with the state of West Virginia, formed to promote the arts in and around Berkeley Springs. We are not directly associated with any other organization but work with local arts groups to promote local artists and encourage tourism in Berkeley Springs.

❋ If you are here visiting on non-Tour dates, please make an appointment before going to studios. Most of our artists are not generally open to the public. ❋
Visit BerkeleySprings.com for local information about dining, accommodations, spa services and other events throughout the year.
Video about the 2022 Tour. Our group of artists continually grows and changes. Check Studios list to see who will be on the tour.